---
Submit your Event or Concert,
This email address is being protected from spambots. You need JavaScript enabled to view it.

We will not be responsible for any errors or inaccuracies.
---
A lot more James Bond concerts collected on the link below, I have put them all in this news item. So check it out from there!
http://www.moviesinconcert.nl/index.php?page=concertlist
---
Q The Music Show
James Bond Concert Spectacular
Sunday 24nd November 2019
7:30pm
West Cliff Theatre
Tower Road
Clacton-on-Sea
CO15 1LE
Guest Compere: Caroline Bliss – Moneypenny in The Living Daylights & Licence To Kill.
---
Q The Music Show
James Bond Concert Spectacular
Saturday 14th March 2020
7:30pm
Wycombe Swan
St Mary St,
High Wycombe HP11 2XE,
United Kingdom
Guest Compere: Caroline Munro – The Spy Who Loved Me
---
Q The Music Show
James Bond Concert Spectacular
Friday 1st May 2020
7:30pm
Watford Colosseum
Rickmansworth Road
Watford
Hertfordshire
WD17 3JN
Guest Compere: Madeline Smith - Live And Let Die
---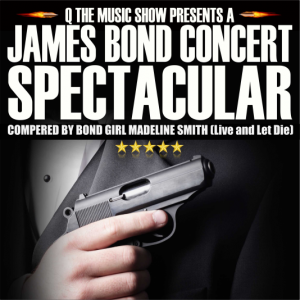 Q The Music Show
James Bond Concert Spectacular
Sunday 3rd May 2020
7:30pm
The Spa Pavilion
Undercliff Road West
Felixstowe
Suffolk
IP11 2DX
Guest Compare: Madeline Smith – Live And Let Die
---
Q The Music Show
James Bond Concert Spectacular
Sunday 7th June 2020
7:30pm
White Rock Theatre
White Rock
Hastings
East Sussex
TN34 1JX
Guest Compare : Caroline Bliss – The Living Daylights & License to Kill
---